Booerie Creek Flying Star
Service Fee: Sadly, due to complications from laminitis, on vet advice Flying Star was put down in April 2007. His last foals will be born this year.
Booerie Creek Flying Star
Booerie Creek Flying Star, by the renowned Star Black Minstril, is a very tidy type of horse. His dam, Homeview Flight (by Radius), won quite a few campdrafts and his full brother, Booerie Creek Flying Minstrel has won campdrafts as well.
Flying Star won the working 3 year old at the National Championships at Condobolin as a 2 year old.
In 1998, he won the working class under 4 years and placed third in the open working stallion at Canberra Royal.
At the Hunter Branch Show in 1999 he won the 3 year old Snaffle Bit Futurity and was the Junior High Point horse of the Show. He was also fifth overall in the National Futurity at the Championships held at Tamworth.
At the National Championships held at Hawkesbury in 2000, he won the Time Trial section of the Maturity, the working colt 4 year old and the Champion working 4 year old.
At Canberra Show in 2001 Flying Star won the Snaffle Bit and the Champion Ridden Horse. At the 2001 National Championships held at Scone, Flying Star won the Working Stallion under 15hh and the Champion Working Stallion 5 years and over. (Rosebrook Balou won Reserve to him)
Booerie Creek Flying Star has been shown very successfully by Gerald O'Brien. This combination won the RM Williams Trophy Saddle at the 2003 Sydney Royal Easter Show and the Champion Ridden Horse at Melbourne Royal.
Flying Star wBoorie Creek Flying Staras second in the stallion draft at the National Championships held at Albury in 2005. He also placed third in the Open Challenge.
Flying Star has become a novice campdrafter after multiple placings in maiden, novice and open drafts. He is campdrafted by Colin Parkinson.
His oldest progeny are going well. They show their sire's ability and keenness to learn. Rosebrook Lancer was named the 2006 Ladies Rookie polocrosse for NSW after his first successful season.
At the 2007 Sydney Royal Flying Star won the time trial by over 10 seconds from the next placegetter and was second in the station horse. He was part of the Rosebrook team who competed in the Teams Draft in the main arena winning this event for the second year in succession.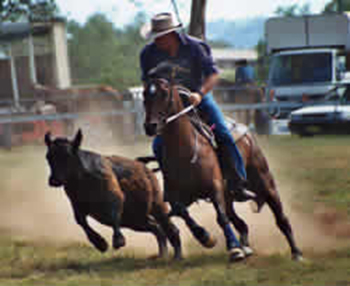 Sire: STAR BLACK MINSTRIL - FS HSH
Dam: HOMEVIEW FLIGHT - LH