Service Fee: $1,000 plus GST and vet fees
Rosebrook Sage is a bay/brown stallion standing around 15.1 hands. Sage has a pedigree full of heritage ASH breeding. He is by our resident sire Booerie Creek Flying Star who is by Star Black Minstril. His dam, Rosebrook Sierra, goes back to Abbey, Chan and Sage King.
Flying Star was a champion show horse and novice campdrafter. His progeny have excelled in every field.
Sierra won the maiden/novice draft at Muswellbrook at her first start from a field of 180 ridden by Adam Sadler. She also played four polocrosse carnivals before being retired with injury. Sierra only had three foals before suddenly passing away during the equine flu epidemic.
Rosebrook Sierra is out of Rocklea Dimity. We have kept every foal out of Dimity except for one colt who was sold at one of our earlier sales and a gelding who has played top level polocrosse down in southern NSW. These foals include Rosebrook Serene who won 6 champion awards at polocrosse including Sydney Show and the NSW zone championships.
Sierra is a full sisterRosebrook Sage to the champion polocrosse horse Rosebrook Sterling who has won Champion horse at Barastoc and Sydney Show for Colin Parkinson and champion under 21 ASH at the Ballarat Nationals played by Simon Parkinson. Brittany Parkinson played Sterling at the Barastoc carnival in 2014 in the Junior girls competition. Sterling is also a novice campdrafter.
Other full sister's include Rosebrook Conchita and Rosebrook Sequence. Conchita has been played in under 21 mens polocrosse by Brandon Parkinson at Ballarat and Warwick Nationals and at Barastoc and Rosebrook Sequence was shown very successfully and won two champion horse awards at polocrosse before being retired to stud.
Sage has been lightly drafted and won the first round of the maiden draft at Muswellbrook in 2013 with a score of 89. Sage won the Champion working four year old at the ASHS National Championships in 2013. He also won Supreme ridden horse at the Upper Hunter Show in 2014.
His first foals are weaned and will be available in our sale. We are very happy with them.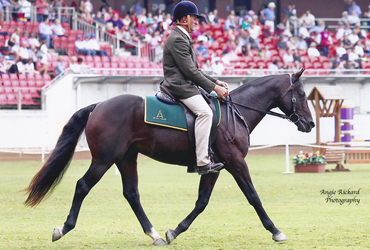 Sire: BOOERIE CREEK FLYING STAR - HSH