Service Fee: $1,000 plus GST and vet fees
Coolum Arrow was purchased as a yearling at the National Championships Yearling Sale at Hawkesbury. He was broken in by Gerald O'Brien and was lightly shown with success.
Arrow won the Led 3 Year old colt at Sydney Show in 2002. At the National Championships in Albury that year, he won the Working 3 year old colt and the 3 year old pleasure hack. He was second in the ridden 3 year old colt class and finished third in the Led 3 year old colt. He finished eighth overall in the National Futurity.
His progeny are horses with good temperament and showing ability. They are horses that would be at home in the show ring, campdraft arena or playing polocrosse. They are quiet to handle and do anything with.
Coolum Arrow is bred for performance with Warrenbri Romeo and Star Black Minstril in his ancestry. Both these horses have been prolific sires of performance horses.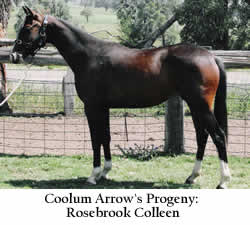 Dam: STAR GAY FLIGHT - HSH