There is little to say about Abou's breeding if you have read the story on Cedarwood.
Cedarwood and Abou are both out of the same mare, Rosebrook Cedar, who was by Chan. The difference is that Abou is by Abbey while Cedarwood was by Quarter Spade.
Abbey was being campaigned with success as a campdraft horse. I was asked if I would send a mare to him and when he was brought to the local area I decided to send Cedar. The colt foal that resulted was a beautiful chestnut with a white blaze and white on three legs. His progeny were well known in the show ring for the great chestnut colour and white markings. The first year I showed horses at Sydney show I took down two chestnut three year old fillies. They finished first and second in the class and I had several people ask me what I fed them to get them such a great colour.
Abou and Cedarwood were of much the same quality and their progeny were very similar in conformation. Rosebrook Abou threw more chestnuts than Cedarwood and there were only a few characteristics that set them apart. The main one being that Abou foals had longer tails. It took me some time before I worked this out.
Abou had the opportunity to be drafted whereas Cedarwood only had a limited number of starts. Abou was drafted by Tony Clifford from Aberdeen who drafted him to become a novice horse. Abou was placed many times and always seemed to do his best.
Rosebrook Abou stock were much the same as Cedarwood's, going on to win and place in many led and working classes. Abou went on to win the most successful sire at the Hunter and Eastern Branch shows many times.
When I had a few Cedarwood mares old enough to breed from I put them to Abou and hoped to get some good horses. The results were beyond my expectations as they turned out to be horses of exceptional quality and ability.
I believe the quality and ability that both Cedarwood and Abou bred into their progeny was thanks to Chan.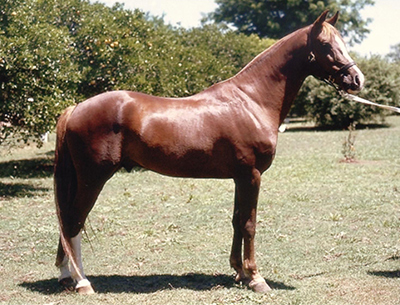 Dam: ROSEBROOK CEDAR - FM HSH