I have always been keen on horses that are good in the front, head, neck and shoulders. The head and neck are where the horse gets its balance. Horses heavy in the neck and head are usually heavy going and rough to ride, although there are exceptions.
I had always been keen on the Chan breed of horses for this reason. It is surprising how long the Chan type remains dominant in the Chan breed.
At the time I was looking for a Chan mare to breed a colt from mares were almost impossible to come by. My father, Frank Blake, a keen and successful campdrafter was very friendly with Jim Callinan (Leo's father) and he said when a quality mare became available I could have the offer on her. Jim Callinan passed away but he had told his son Leo the mare I could buy from him.
The brown mare was cedar in colour, hence the name Cedar. She was broken in and had done station work and had played a few light games of polocrosse. Cedar was a quality mare and was from one of the top Chan families at Glengarry.
I worked her about the place, gave her some light drafting and also some led and hack showing at which she was placed a few times.
People would tell me how highly strung the Chan horses were and to go easy on her. Later on I was fortunate enough to buy four more Chan mares and of the five Chan mares I had I did not have a hot mare among them. I found that if treated correctly Chan horses were won over by the rider for their lifetime.
Quarter horses were all the go at the time and I decided to put Cedar to Quarter Spade, an infused quarter horse colt.
The result of this cross was Rosebrook Cedarwood and he had taken after his dam – quality plus ability. Cedarwood went on to be a successful sire with his progeny being winners in the show ring. He went on to win the most successful sire at the Hunter and Eastern Branch shows.
I have sold Cedarwood horses to most states in Australia and two to New Zealand. I have never regretted the breeding program I set out for Cedarwood and today still have the Chan conformation in my horses.
Somewhere along the line I try to bring the Chan bloodlines into my present day breeding program and the results can be seen.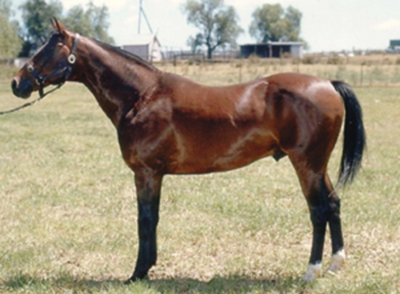 Dam: ROSEBROOK CEDAR - FM HSH