Rosebrook Shantung is the son of Rosebrook Marquisette, possibly the best mare I have ever bred. A mare with a tonne of speed, with terrific stop and the ability to manoeuvre herself into any position you wanted. She won many positional horse prizes as well as champion on many occasions. A very good mare after cattle, as was her dam Lisa.
Lisa has bred on with Rosebrook Marquisette producing Rosebrook Shantung, Rosebrook Marquita and Rosebrook Bewitched, as well as the next generations, Rosebrook Vienna and Rosebrook Ferrari. All these horses have performed extremely well at polocrosse, campdrafting and in the show ring including Sydney RAS, National ASH Championships and good horses to work on the property. Lisa, Marquisette, Bewitched and Vienna make up four generations who represented NSW and all played at Sydney Show.
Shantung's sire, Rosebrook Abou, won campdrafts and placed many times. He was also a very good show ring horse having won champion stallion on many occasions. He was the most successful sire at the Hunter Branch show six times and at the Eastern Branch show five times. At the ASH National Championships at Tamworth in 1999 he was the most successful sire once again. There are many good performance horses by Shantung.
Rosebrook Serene placed at her only campdraft start from a large field of horses. Serene won the 2002 NSW Open Ladies Horse for polocrosse. She has won many positional and champion awards, In 2007 she won the Champion ASH of the Sydney Show polocrosse. She finished the season off by winning the Champion Ladies ASH at the NSW Zone Championships at Grafton.
Rosebrook Maria has been a highly successful polocrosse mare for Bruce and Glynis McAlister in Queensland. This mare won the Champions Veterans Horse at the 2004 Albury Nationals and then again at the Sydney Nationals in 2006. What a great achievement.
Rosebrook Concerto has been a great addition to our polocrosse stable. She has played ladies and mens A grade polocrosse and at zone and state level. Concerto was played at the Barastoc tournament in 2013 and 2014 in the under 21 mens by Brandon Parkinson. She was awarded the best intermediate ASH at the carnival in 2013. In 2014 she played at the Darwin Nationals.
Rosebrook Kyra was purchased by Tanya Mulligan from one of our sales. Kyra has played at two Nationals with Tanya. She has been a great mare for Tanya and her family at club and zone level.
Rosebrook Nickole was privately purchased by Charlie and Sara Grills as a yearling. Nickole was played at the Perth Nationals by Sara. Nickole has played at a high level for the Grills family. Nickole has been played at Ballarat and Warwick Nationals by Harry Kirk in the intermediate mens competition. She has won many horse awards with Harry over the last few years.
Rosebrook Shantung sustained an injury in the paddock and, under veterinary advice, was put down on November 1 2007. There are limited stock still available for purchase.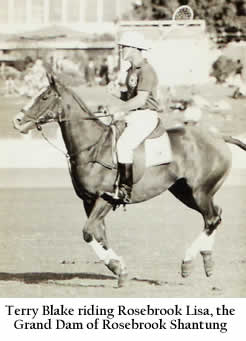 Sire: ROSEBROOK ABOU - IS HSH
Dam: ROSEBROOK MARQUISETTE - LH